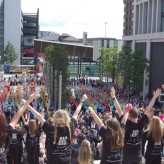 The Liverpool Arts Regeneration Consortium (LARC) is seeking to engage an individual or organisation to work closely with a range of local partners to plan, manage and deliver an inspirational programme of engagement with young people culminating in July 2014 in the first of a series of biennial International Youth Arts and Cultural Festivals in Liverpool. Applications to undertake this work are invited from interested consultants or organisations who as a minimum can demonstrate: experience of working with or planning events for young people in an arts, education and training or community environment; experience of co-ordinating or managing learning and/or training programmes for young people, and appropriate event and/or Festival management and administrative experience. Further information about the opportunity and details of how to apply are available in the link below. The documents have been...
Read More
Let's Work Together was a national conference of leading arts sector figures interested in sharing good practice and some of the critical understanding needed to realise future opportunities for collaboration, both within and beyond the sector. It took place on Tuesday June 21st 2011. The full report on the "Let's Work Together" conference has now been published and can be downloaded here. In addition to the full conference report LARC has also published a paper containing participant feedback and recommendations for further action. This paper can be downloaded...
Read More
On 21st June, Liverpool Arts Regeneration Consortium hosted a national conference of leading arts sector figures interested in sharing good practice and some of the critical understanding needed to realise future opportunities for collaboration, both within and beyond the sector. At the conference members of LARC were able to pass on their learning and experience from the LARC model of collaboration,  alongside speakers such as Clore Leadership programme director Sue Hoyle, Director General of the English-Speaking Union Michael Lake,  Chief Executive of &Co Alison Edbury, Piali Ray the Director of sampad South Asian Arts, DCMS Head of Research Dr Adam Cooper,  Dave Moutrey, Director and Chief Executive of Cornerhouse. Speaker Biographies are available to view online. The conference was specifically designed to examine: models of leadership in collaborative practice art and artist-led examples of collaborative practice collaboration in rural settings how collaboration can unlock new business models collaboration within the changing public sector landscape plus new methodologies and expectations for demonstrating your case Each delegate was able to register for a couple of practical workshop sessions, that were designed to encourage open and pragmatic exploration of collaboration models and approaches, which included lessons from Thrive projects from across the country and LARC itself. The conference programme is still available to download if you would like to see more details from the workshops. A full conference report will be available shortly,  in the mean time an online resources document has been compiled from the contributions of  a number of the speakers and delegates at the Let's Work Together conference. You can read it online below or you can download it. [gview...
Read More
How Audiences and Visitors are Transformed by Cultural Experiences in Liverpool In this collaborative pilot study, eight arts and cultural organisations in Liverpool (acting together as the Liverpool Arts Regeneration Consortium, or LARC) surveyed audiences and visitors about the impacts of their experiences over the 2009-10 season. This report discusses the range of findings with respect to audiences' 'readiness to receive' the art and the six constructs of intrinsic impact:  captivation, emotional resonance, spiritual value, intellectual stimulation, aesthetic growth and social bonding.  The results of the study have stimulated conversations about artistic programmes, audience engagement, customer service and other topics, and also helped to advance a longer arc of learning about impact assessment underway in the U.K., U.S. and Australia. Together with the wide range of smaller cultural organisations and other major venues in Liverpool, LARC represents a cultural infrastructure that is among the best of any of the major English regional cities. For this project, Baker Richards Consulting worked in partnership with WolfBrown, combining significant experience across research, data analysis and marketing in the cultural sector. WolfBrown has pioneered the development of this type of research in the cultural sector in the US and this would be a groundbreaking study for the arts in the UK. WolfBrown helps foundations, government agencies and non-profit organizations understand their potential and fulfill the promise of their missions. Documents  Intrinsic Impacts Pilot Study Report, June 2011 Press Release: Intrinsic Impacts ...
Read More
Much of Liverpool: City of Radicals is still in the planning stages so please check with the venue or organisers beforehand as details may change. The new City of Radicals website www.cityofradicals.co.uk is now available with a  line up of events. Available now Nerve's 2011 calendar, with images relating to 1911 was launched at the Bluecoat in December. Copies from News from Nowhere. Nerve magazine to continue with related events throughout the year. Web: www.catalystmedia.org.uk/ February Date/s: 2nd February – 3rd April David Jacques: The Irlam House Bequest Installation by 2010 Liverpool Art Prize winner featuring series of drawings and painted silk banner in the style of a traditional British Trade Union, representing a banner workshop run by a collective of artists opposed to Victorian artisan and entrepreneur George Tutill, who monopolised production of union banners in the 19th Century. Venue: The Walker Organiser: The Walker Web: www.liverpoolmuseums.org.uk/walker/ Date/s: 3rd February Centenary of Robert Tressell's death: wreath laying at former Liverpool Infirmary; ceremony at the Rice Lane cemetery; celebration event at the Town Hall; launch of large commissioned Tressell banner on Dale St, Liverpool city centre by David Jacques & schools banner project. LCC's other Tressell plans include distributing copies of his Ragged Trousered Philanthopists; readings from the book at local libraries; and a Roscoe lecture Venue: Various Organiser: Liverpool City Council Date/s: 7th February Tressell community drama performance at the Casa Venue: The Casa, Hope Street Organiser: Liverpool City Council Date/s: 14th -20th February Liverpool Discovers: A Winter's Trail. Art trail round city centre based on local people's stories – linking to the radicals theme Venue: Various Web: www.liverpooldiscovers.co.uk March Date/s: 12th March International Women's Day Events, films and talks to celebrate International Women's Day, plus other associated events Venue: The Bluecoat Organiser: Gillian Howie, University of Liverpool Web: www.thebluecoat.org.uk/ Date: Tuesday 15th March 6.30pm-8.30pm Strike for Liberty! – The Remarkable Story of the 1911 Liverpool Transport Strike A discussion and excerpts from theatre production "Rid the World" by Rob Johnston Venue: Metal@ Edge Hill Station, Platform 1,Tunnel Road, Liverpool, L7 6ND Organiser: Metal Web: http://www.metalculture.com/ Date/s: 1st April -11th June Collaboration Programme: An Exhibition with the People of Liverpool An exposition representing the breadth and reach of FACT's Collaboration Programme working with communities. Venue: FACT Organiser: FACT Web: www.fact.co.uk/ Date/s: 14th-18th March Festival of Performing Arts This will include some Robert Tressell inspired performances Venue: St George's Hall Organiser: Liverpool City Council Date/s:...
Read More
Larc has produced a range of publication and reports and to make it easier for you to find this information they are listed below. List of Publications and reports Name Date Format Culture and Civic Responsibility in Liverpool publication October 2010 PDF Liverpool Cultural Sector and Higher Education Mapping Report June 2009 PDF Thrive North Liverpool Mapping Report March 2010 PDF Thrive Programme Update October 2010 PDF Telling Stories – Arts culture and wellbeing in North Liverpool November 2010 PDF LARC – Our Vision and Values December 2010 PDF ...
Read More