Creative opportunity…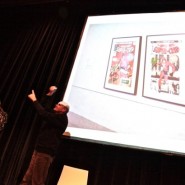 LARC is committed to a programme of workforce development across the whole cultural sector that will implement new models of partnership engagement with the education providers in the City Region (Schools, Colleges and Universities) to ensure both the sustainability of the sector and to grow and develop future practitioners and artists
One of the successes of the LARC collaborative work to date has been the Liverpool Creative Apprenticeship scheme. The programme was initiated in 2007 and through the programme creative and cultural organisations have been supported to develop the skills and expertise to provide high quality training and development for young people.
The Liverpool creative apprenticeship programme continues to operate and now runs on a rolling recruitment basis. Since the inception of the programme 24 separate organisations, covering the public, private and voluntary sectors have recruited a total of 34 apprentices.
Working in partnership with Liverpool City Council, Arts Council England and Creative and Cultural Skills LARC will be developing a new programme of employment support and workforce development for the sector, including implementing a programme of paid apprenticeships and internships and has been successful in attracting funding from the Creative Employment programme to deliver to deliver a package of up to 35 apprenticeships and internships over the next 2 years.
All partners are committed to the implementation of a coherent apprenticeship programme across LARC, COoL and the wider arts sector (both public and commercial) to ensure that Liverpool develops a strong apprenticeship, training and employment offer that bridges the gap from school and HE/FE into employment within the cultural sector.