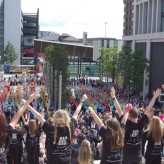 The Liverpool Arts Regeneration Consortium (LARC) is seeking to engage an individual or organisation to work closely with a range of local partners to plan, manage and deliver an inspirational programme of engagement with young people culminating in July 2014 in the first of a series of biennial International Youth Arts and Cultural Festivals in Liverpool. Applications to undertake this work are invited from interested consultants or organisations who as a minimum can demonstrate: experience of working with or planning events for young people in an arts, education and training or community environment; experience of co-ordinating or managing learning and/or training programmes for young people, and appropriate event and/or Festival management and administrative experience. Further information about the opportunity and details of how to apply are available in the link below. The documents have been...
Read More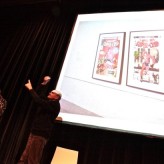 LARC is committed to a programme of workforce development across the whole cultural sector that will implement new models of partnership engagement with the education providers in the City Region (Schools, Colleges and Universities) to ensure both the sustainability of the sector and to grow and develop future practitioners and artists One of the successes of the LARC collaborative work to date has been the Liverpool Creative Apprenticeship scheme. The programme was initiated in 2007 and through the programme creative and cultural organisations have been supported to develop the skills and expertise to provide high quality training and development for young people. The Liverpool creative apprenticeship programme continues to operate and now runs on a rolling recruitment basis. Since the inception of the programme 24 separate organisations, covering the public, private and voluntary sectors have recruited a total of 34 apprentices. Working in partnership with Liverpool City Council, Arts Council England and Creative and Cultural Skills LARC will be developing a new programme of employment support and workforce development for the sector, including implementing a programme of paid apprenticeships and internships and has been successful in attracting funding from the Creative Employment programme to deliver to deliver a package of up to 35 apprenticeships and internships over the next 2 years. All partners are committed to the implementation of a coherent apprenticeship programme across LARC, COoL and the wider arts sector (both public and commercial) to ensure that Liverpool develops a strong apprenticeship, training and employment offer that bridges the gap from school and HE/FE into employment within the cultural...
Read More
LARC COMMISSIONS REPORT FROM IMPACTS 08 ON THE RELATIONSHIPS BETWEEN LIVERPOOL CULTURAL ORGANISATIONS AND THE HIGHER EDUCATION SECTOR LARC released a report in June 2009, mapping the relationships between the Liverpool cultural sector and the higher education sector. The research was commissioned from Impacts 08 to support LARC's objective to strengthen strategic collaboration between the higher education and cultural sectors in the Liverpool City Region. It is based on survey returns from 15 arts and cultural organisations, including the 8 members of Liverpool Arts and Regeneration Consortium (LARC) and seven other arts and cultural providers . The report covers a variety of areas of collaboration, looking at both recent and current partnership activity, and outlining significant forthcoming activity and aspiration.  It is offered as a contribution to inform the debate in Liverpool and further afield, in the belief that Liverpool is well placed to establish a nationally significant model for the breadth and depth of partnership between its cultural and higher education institutions. The report was launched at a conference organised by Culture Campus Liverpool, 25 June 2009    Culture Campus Liverpool is a unique partnership between the universities and some of the major visual arts and media organisations in Liverpool, promoting cross-sector collaboration, research and networking. The conference aimed to provide an opportunity for a productive dialogue between the cultural and higher education sectors on the key themes, challenges and possibilities of collaborative research, graduate retention and the development of a postgraduate culture over the next five years and beyond.   It was attended by over 100 delegates, including the Vice-Chancellors of all three Liverpool higher education institutions. Main Findings It is clear that there is already substantial engagement between arts and cultural organisations in Liverpool and Higher Education Institutions, both in Liverpool and around the world.   34 UK HEIs were named by survey respondents as partners in delivery of work or networks, or in the context of more informal relationships, plus a further 10 non-UK institutions. Many of the projects and partnerships referred to in the report are well-established or emerge from long-term relationships and collaborative thinking. In addition, there is a real breadth of disciplines displayed across the different initiatives and projects. Liverpool benefits from having three universities with many complementary strengths and specialisms, as well as from the concentration and profile of its arts and cultural sector, including national institutions, and one with an Independent Research Organisation status...
Read More